About Jim Salmons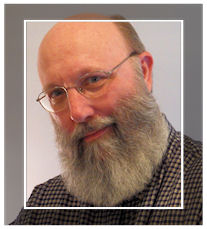 Three years ago I began an incredible life-changing, and thankfully successful so far, battle with cancer. Timlynn and I are now fully engaged on two inter-related #Play2Learn projects; FactMiners and The Softalk Apple Project.. As soon as we have a chance, we'll update these bio pages accordingly.
---
Jim Salmons brings over thirty-five years of technical innovation and leadership to his position as Chief Technical Partner of Sohodojo. In addition to managing all technical aspects of Sohodojo projects, he specializes in the architecture and development of executable business models using Internet and object technologies.
Mr. Salmons has contributed to advancement of the object technology industry. His years of involvement in executive and steering committee positions include conference co-chair in 1993 for the Association for Computing Machinery's OOPSLA conference (Object-Oriented Programming Systems, Languages and Applications), the technical conference of record for the object technology industry. He is founding co-editor of The International OOP Directory: A Guide to Object-Oriented Products and Services, published by SIGS Publications, producing both the 1990 and 1992 editions of this publication.
In 1994, Mr. Salmons was recruited into the Object Technology Practice of the IBM Consulting Group to take a leadership position in the development of an enterprise object modeling methodology and supporting frameworks for the creation of executable business models. His work there laid the foundation to fundamentally change the way enterprise systems are designed and built. In addition to his contributions to the methodology and overall software architecture, Mr. Salmons was personally responsible for the Visualization User Interface framework, a "smart" desktop which dynamically generates user-configurable views onto executable business models. During his nearly five-year involvement at IBM, Mr. Salmons attained IBM Consulting Group Professional Certification and was promoted to the position of Executive Consultant, the highest non-managerial technical position at IBM.
Prior to his recruitment by IBM, as consultant to a multinational telecommunications company, Mr. Salmons led a strategic transition team of executive consultants which charted a massive MIS technology transfer to object technology. His team designed and managed the developer and management training, MIS infrastructure development and cultural shifts and reuse architectures.
Working with an international computer company, Mr. Salmons designed and developed the industry's first User Interface Version Control (UIVC) system. Complementing the passive change management of traditional source control, his UIVC systems actively negotiate the conflicting requirements and objectives of all parties (designers, developers, documentation writers, marketing, customer support, etc.) in large-scale object technology software development projects. Following this innovation, Mr. Salmons designed and implemented a UIVC system for a Fortune 100 financial services corporation developing a paperless mortgage underwriting system.
In 1992, Mr. Salmons put his independent consulting career on hold to join Knowledge Systems Corporation, an industry-leading object technology services company. As its first Principal Consultant, he contributed to the development of a software engineering environment. This software engineering environment was widely regarded as the most advanced Smalltalk development environment ever created. Mr. Salmons joined the product development team to contribute to the design and development of programming tools and to develop consulting services leveraged by use of the proprietary product.
Prior to his involvement in object technology, Mr. Salmons was a software entrepreneur. Among his diverse experiences, he has held founder and executive positions in marketing, research and corporate development as well as board memberships at one of the first microcomputer software companies, a microcomputer-based integrated manufacturer of store fixtures, a sales force automation software company and a computer magazine publishing house.
Mr. Salmons has over thirty publications in the object technology and microcomputer fields. His technical conference publications and presentations include topics on executable business models, social network process modeling and user interface version control systems. In addition to his traditional publications, Mr. Salmons is author of three award-winning multimedia, computer-based training curricula deployed internationally in the mid-1970s on the Control Data PLATO system.
Mr. Salmons holds a B.A. degree, cum laude, in Psychology, Journalism and Theoretical Linguistics from Washington and Lee University and a Master's degree in Organization Development and Communications from Antioch University's School for Social Action and Research. His post-graduate work in Mathematical Social Science at the University of California at Irvine focused on business process modeling using Prolog, OPS-5 and Smalltalk foreshadowing his current interest in the interface between business process engineering and object technology.